Since 1978, the Whispering Winds Catholic Camp and Conference Center has provided a safe, supportive environment, where anyone can grow in their relationship with Christ. The team at A-1 Self Storage is proud to support this incredible organization!
Located about an hour drive from San Diego near the historic town of Julian, California, Whispering Winds is comprised of 161 secluded acres in the Cleveland National Forest. When the camp was founded, there were no lodges or meeting halls, just RVs and tents set up among the mountain shrubs. The original cafeteria tent was infamous for being ice cold in the winter and sauna hot in the summer.
Whispering Winds' growth from these humble beginnings was due in large part to private donors who facilitated construction projects ranging from barracks-style housing with multiple bunks to lodges with private bedrooms and bathrooms.
Today, Whispering Winds has everything you would expect from a typical summer camp. There are a wide variety of outdoor activities to enjoy including zip lining, horseback riding, rock climbing, swimming, and hiking. What makes camping at Whispering Winds different from other summer camps is the way that faith is incorporated into the programming. During each Whispering Winds run program, there are a number of scheduled masses and prayer times. Confession is even offered. 
"It's an environment where God is always spoken about, yet it's still fun. Making faith fun is not a bad thing. Jesus said, 'Let the little children come to me.' He loved children and I really do believe that the family that prays together stays together. I also believe that the family that plays together stays together. Here we do both and it's a really good balance," said Paula Bott, Director of Programs for Whispering Winds.
More than 10,000 people (many of whom are part of guest rental groups) participate in various programs at Whispering Winds each year. Each program is uniquely designed to engage the spiritual needs of a specific group. These groups include families, middle school students, Confirmation candidates, foster children, and those who have lost a loved one in the military. There are also programs for adults aged 55 and older. The camp makes a great effort to serve the needs of not just children, but the entire community.
Paula estimates that more than 90 parishes from around the Southwestern part of the United States are represented at camp each year. She says that the accepting atmosphere and unique chance to experience God through nature keeps campers coming back year after year. 
"At Whispering Winds, you can find quiet moments in a world where silence and tranquility are very rare," said Paula. "We're very welcoming. Some of the families who come to camp go to church three times a week and some families haven't been to church in a couple months. We want people to learn and grow in their faith, so we want to be non-judgemental. We want people to feel loved and comfortable when they come to camp. We provide a place for them to grow where they are. It's a place where God can speak to you wherever you are on your spiritual journey."
A Family Tradition
Paula has spent every summer since she was a child attending programs at Whispering Winds. Her parents, Frank and Bernice Mascari, helped found the camp and also started the Family Camp program in 1993. This summer marked the 25th consecutive year that a member of the Mascari family was a part of the team which ran Family Camp at Whispering Winds.
"I was up there getting the camp ready and doing things as a little kid, climbing trees and playing. It became kind of like our second home," Paula said. "Now I run the Family Camps as well, so I have taken the baton from my parents and have been in charge of the Family Camp for 10 years."
That baton is likely going to stay in the Bott family for quite some time as Paula's two daughters joined the team at Whispering Winds for the first time this past summer.
"Being raised in a place like this has been the most important thing in my life. For me, it's a huge blessing, because it keeps my family's faith alive. Camp is different. It's a place where you can experience God in nature, which isn't all that common anymore," Paula said. "My parents saw value in it and now my children choose to work at camp. There's no greater gift to a parent than being able to experience that. Whispering Winds obviously impacted my life as a child, now it's impacting my children. It's just an amazing legacy that the founders and my parents left our community."
There are four Family Camp programs each year, one of which is reserved for families of children with special needs. According to Paula, Whispering Winds is the only camp in Southern California that offers programming which provides for special needs children, their siblings, and their parents. Each family is paired with a one-on-one aide for the weekend called a "Buddy" who is a trained volunteer responsible for being with the special needs child throughout their time at Whispering Winds. Last year, 42 special needs children were able to attend camp.
"Due to a very kind donation from  Brian Caster, we've been able to provide a Military Family Camp for active duty military members this year. Military families attended any family camp for only $100," Paula said.
Growing Faith in Nature
With the hustle and bustle of modern life, things can start to feel pretty crazy. Technology keeps us tethered to a constant stream of information. Notifications, messages, calls, emails, and other forms of communication demand our attention on an unpredictable schedule.
According to Paula, there's something about nature's beauty that can separate us from that craziness and make it easier to connect with the Almighty. Being on the mountain makes people feel like they become part of the environment, calm and relaxed. During the many years she's attended camp at Whispering Winds, Paula says she has seen many people make incredible discoveries about themselves, their loved ones, and Christ.
"I feel super blessed because I get to see that marriage that's falling apart that ends up sticking it out and making it. I get to see the wife who ends up getting baptized because she came to camp and experienced God in a way that she never had before and now she wants to be in fullness of the faith," Paula said. "Our donors don't really get to see that, so I want them to know we are so grateful to them for what they've done to make a difference. I want to remind them that it's not just a building that they've contributed, but what's happening in those buildings has made the biggest impact." 
Thank you to everyone at Whispering Winds for the opportunity to help you bring more people into Christ's love. A-1 Self Storage is honored to provide support for your life-changing programs!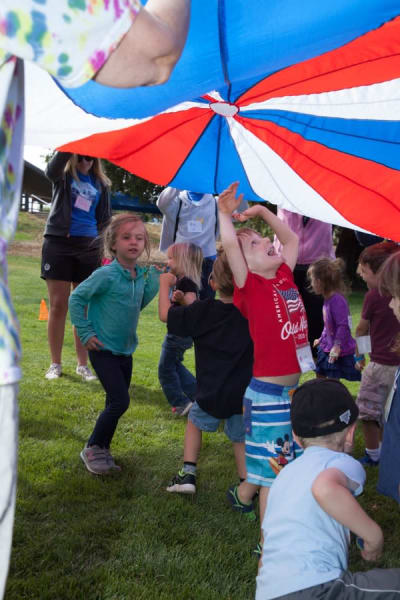 Bonus Interview with Terrence Caster
Peter Soto: How did you first become involved with Whispering Winds?
Terrence Caster:  We became involved with Whispering Winds during a retreat we attended in the 1960's. The camp was founded for Catholic Families to hold retreats and celebrate Mass at the camp.
Peter Soto: Why is supporting Whispering Winds important to you?
Terrence Caster: Supporting Whispering Winds is important to us because we want to bring people to Christ; the camp holds many retreats throughout the year which provide that platform to make that personal connection with Christ. The camp is hidden in the hills of Julian and we veterans of the camp refer to it as "the mountain." When you are on the mountain; you disconnect from the daily hustle.
Peter Soto: What programs have you attended at Whispering Winds in the past? 
Terrence Caster: We are involved with Cursillo San Diego. It is a weekend retreat which focuses on your relationship with Christ. Whispering Winds also hosts a Senior Moments Retreat, Women's Retreat, Family Camp, Military Family Camp, and Special Needs Family Camp. This is in addition to the retreats held for confirmation into the Catholic Church and Youth Ministers Retreats. They are busy and we like hearing the buildings we invested in are full of people who seek our Lord.
Peter Soto: Do you have any fond memories from your time at Whispering Winds?
Terrence Caster: When I first went on my Cursillo retreat, I really didn't want to go; on the first night I called my wife Barbara and gave her instructions on how to get to the camp after about half an hour of explaining the directions she firmly informed me that she would not be picking me up as we had waited to be on retreat. I hung up and talked to God; I told him "Ok, God; if I am supposed to be here for three days, give me all you got." Almost instantly I felt the Holy Spirit; it was the most perfect, peaceful and powerful experience of my life. I started a deeper relationship with Christ. That was well over 30 years ago.
Peter Soto: Has Whispering Winds been a positive influence on your family? If so, how?
Terrence Caster: Yes, Our son, Brian, and his family are involved with Cursillo and the camp.  
Peter Soto: This is not your first donation, nor the first building you have helped to construct with a donation, did you think you would help Whispering Winds grow this much when you first became involved?
Terrence Caster: We always believed in the camp because of the experience we have had on the Mountain. The camp took a beating during the Cedar Fires in 2003 and we knew we wanted to be involved somehow with the rebuild.  
Peter Soto: Do you have future plans for Whispering Winds?
Terrence Caster: We hope and pray that the camp continues to be filled with persons who are looking for and experiencing a deeper relationship with Christ.