What do a family fighting for the life of their child, an Olympic Bronze Medalist, a child actor, and an award-winning surfer have in common? California Connections Academy (CCA).
We had the pleasure recently to speak with Frances Sassin, Director of Business Services for California Connections Academy Schools. She shared a number of success stories with us, some of which date back to the CCA's founding in 2004.
"A number of our students have inspiring stories. The ice skaters are our most recent success!" said Frances.
This is where self storage and education have something in common. Both industries seek success for others. While Frances and her team are committed to making sure children in grades K-12 graduate, A-1 Self Storage in San Juan-Capistrano is determined to support CCA's storage needs.
CCA is a member of the California Charter Schools Association and began 15 years ago with one school and 100 students. Today the association consists of four schools serving more than 6,000 students from 25 countries.
Famous Students
The CCA staff has a great track record for producing top performers, including former students Nathan Chen, Mirai Nagasu, and Vincent Zhou. You'll probably remember them from the 2018 Bronze Medalist Olympic Figure Skating Team!
Mirai Nagasu graduated from CCA in 2011 and made history by becoming the first American woman to land a triple axel at the Olympics. To her credit, she also holds the title as the second youngest woman in history to win the U.S. Senior Ladies' Figure Skating title! She says the online learning system CCA provided allowed her to complete her education no matter where she was in the world.
Karen Chen, a 2017 CCA graduate, placed 3rd in the short program and 4th in the free skate at the US International Figure Skating Classic. This landed her a spot on the 2018 USA Olympic Team. Chen went on to place 11th in Pyeongchang.
CCA is one of the many outstanding commercial clients at A-1 Self Storage in San Juan-Capistrano. Frances said her relationship with A-1 Self Storage is very positive, "This is the nicest storage facility that I've ever used for the school and we have been in at least three other storage facilities. The facility was exceptional. We even used their truck!"
Trustworthy and Reliable Partner
CCA started using A-1 Self Storage in San Juan-Capistrano during a move to a new office location a few years ago. According to Frances, the organization values A-1 Self Storage's proximity to their office and recently rented a second unit.
"We have an event at the beginning of the year where students can meet the teachers at a picnic or park and play games. We also have graduation ceremonies that are all in-person: 8th-grade promotion, dances, and proms. The other thing we store there is all of our equipment. We store 20 E-Z UPs here too! That's one of the reasons we have the second unit. We load bins of different kinds of supplies in and can go over there and easily load it up, set it up, and then have everything we need for our events."
Frances explains that online education through CCA is not "homeschooling" and says it's much more interactive. "We have state credentialed teachers. These educators talk to students on the phone and groups of students get online together for discussions on a project. It is synchronized and recorded, so they can go back through the notes. Students get to interact with one another and there is an online platform where students go to socialize. These discussions are monitored for the safety of our school. We make sure they are appropriate. We also offer face-to-face activities like field trips once per month to a museum or aquarium or historical place, somewhere always education-related."
Commercial clients like Frances appreciate how helpful it is to have a ground-floor unit, especially when moving large items and other inventory, "I don't know if other A-1 Self Storage facilities have these, but the pushcarts are extremely helpful! They have more than enough. That's one of my favorite things that other facilities don't have. They come in handy!"
Frances has enjoyed her experience with our facility so much, she's even renting a unit personally!
"Everyone is very nice and knowledgeable. I live in the area and I have two units. My two children who are older and out of college have relocated to the area. In the last two years we actually moved our stuff to the storage unit, so my son could move back in."
Teammates For the Win!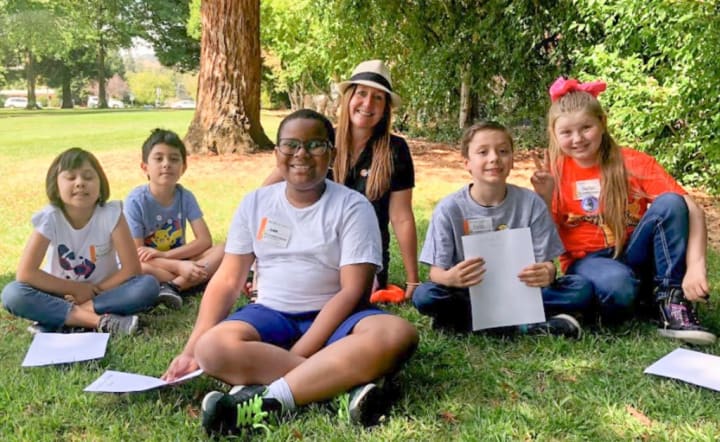 We work hard to not only maintain our self storage facilities, but also make them better every day! Business owners interested in learning if self storage is right for them can stop by and learn more about how A-1 Self Storage can help their business. We know when someone like Frances rents with us multiple times it means we're doing something right!
Here at A-1 Self Storage, we are honored to play an active, helpful role in our customer's lives. We believe that education is an important part of building a community and that virtual education can be a great tool for advancing the careers of young people!
Success for CCA's students isn't limited to ice sports. International Brazilian Jiu-Jitsu champion 13-year-old William Wittkop and Roller-Skating Champ Amika Bullock are two more of the school's well-known students.
Professional Actor Ashley S. Argota is known to many Nickelodeon viewers as Lulu on True Jackson, VP, but to CCA she is another successful student. Last, but certainly not least, junior dragster Rick Nordness who says his CCA education allowed him to work around his "need for speed."
Sometimes illness can cause unique issues that affect a student's education. CCA has helped many students overcome educational limitations caused by illness, including one student who was diagnosed with an extremely rare migraine condition that made it impossible for her to attend a brick and mortar school. Because of CCA, she was able to complete her education from home!
"Many people don't understand that we are public. It's at no cost to the families and we are held to the same accountability standards as all California schools. We are not a private school. We are a charter school and part of the public school system. It's not for every student, but for the students who need it we have it for them. We have students who come in for a short period of time who are bullied. There are many reasons why kids attend with us. Sometimes they have only been to an online school or they can be high-performing students or struggling students. We have many success stories! We've had kids who have graduated at 13-years-old," said Frances.
A-1 Self Storage is dedicated to going above and beyond what is expected from a normal self storage facility. We want all of our customers to feel as confident as Frances does when it comes to self storage and are honored to serve her business and personal storage needs.
What are you waiting for? If you need document storage or somewhere safe and reliable to store items for your business, give us a call today! If you are interested in online education for your child, call California Connections Academy at 1-800-382-6010. We hope to see you soon!