A meal. A friend. A community. 
This is the promise Meals on Wheels San Diego County makes to more than 3,200 people each year, including 1,400 veterans. We at A-1 Self Storage are proud to support an amazing organization that has served the elderly and disabled with care and compassion for more than 58 years. 
Advances in modern medicine and increased access to healthcare are contributing to Americans living longer than ever. The majority of babies born in 1900 did not live to the age of 50, and in 2012 average life expectancy at birth passed 78.8 years in the U.S. While this is a great achievement, the cost of living has also increased substantially compared to even 50 years ago, and many Americans have found themselves experiencing financial difficulty in their twilight years. 
Barbara Fiorina, Director of Development for Meals on Wheels San Diego County, says the organization prides itself on providing high-quality food at a low cost. Meals average $3.50 each, and recipients pay on a sliding scale based on need. Fresh lunch is served 6 days a week, and the charity even sources a portion of the produce it serves from its own garden and orchard, including oranges, limes, grapefruit, kale, tomatoes, mint, and rosemary. 
"When I say fresh, I mean fresh. When you go down to our meal center, they're cutting up cantaloupe, they're cutting up watermelon, they're cutting up all kinds of fresh fruit. We're not handing out fruit cocktail and a peanut butter sandwich," Barbara said. "Even though we're serving 1,000 meals a day, we've got options. If someone's 85 years old and it's very difficult for them to hold a wrap, because of arthritis, or because they didn't grow up eating a wrap, we can accommodate them. We try to be very conscious of what we serve. We try to be as sustainable as possible, and as fresh as possible here. We don't make a lot of extra meals. I'll tell you one thing, if you come down to our meal center, you're not going to find a lot of extra meals sitting around. We're very efficient." 
By providing more than a 1,000 meals a day, almost 450,000 meals a year, this organization serves some of San Diego County's neediest residents. According to Barbara, more than 85% of seniors who receive assistance are considered low or very-low income by the U.S. Department of Housing and Urban Development.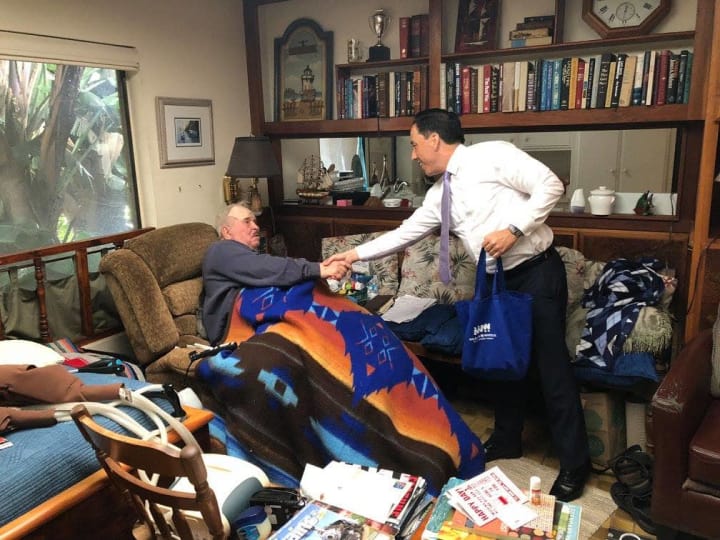 This is why the work that Meals on Wheels San Diego County does is so important. The vast majority of people who receive assistance want to stay in their homes rather than move into an assisted living facility. According to Barbara, many recipients could not afford the cost of assisted living, and there are likely not enough facilities to accommodate those served by the charity. The volunteers and staff at Meals on Wheels San Diego County make sure these seniors can safely maintain their independence.
"If all of the people we serve needed to enter into other facilities, I'm not sure there would be room for all of them in Southern California," Barbara said. "It is cost prohibitive, and some people have a lot of money, but they don't want to give up their home, especially in Southern California where that can mean a lot of money. They want to leave that to their children and grandchildren."
Meals on Wheels San Diego County provides much-needed support and not just in the form of food. The people who visit Meals on Wheels' clients are volunteers. It's their job to deliver meals, perform wellness checks, and assist anyone who may be experiencing hardship. For family members living far away from their elderly relatives, the regular social contact that comes with a Meals on Wheels San Diego County visit is very important – sometimes life-saving. 
"When we go to the door, we're not just dropping off a meal, and then going away. It's about so much more," Barbara said. "If we go to the door and Mr. Jones or Mrs. Smith isn't responding, or something seems out of the ordinary, we want to know why. Sometimes we discover someone who's had a problem in the middle of the night, maybe they're lying on the floor. We've saved many lives like that."
Meals on Wheels San Diego County provides assistance to any county resident over the age of 60. Eligible individuals who wish to receive assistance just have to call 619-260-6110 to begin meal delivery. Those who are not quite 60 yet, but are experiencing disability or illness, especially veterans, are encouraged to reach out as well because Meals on Wheels San Diego County makes exceptions for these situations.
Meals on Wheels San Diego County even has a program to provide food for the pets of eligible residents called Animeals. Last year, more than 160 dogs and 120 cats were fed through the program. This was a great success. 
During the next 18 months, Barbara is rolling out a pilot program using a cell phone app called Mobile Meals. Volunteers will use this app to more efficiently deliver meals, and record data on interactions with clients, that can be used to provide better care in the future. This data is currently being collected manually using a pen, paper, and many three-ring binders. 
"This technology is going to make our seniors safer, and it's going to make a huge difference in keeping our seniors safe. Compared to the three-ring binder, the app sends information in real time, so you can see who's delivering, where they are, and the notes they take for each client."
A-1 Self Storage is honored to support Meals on Wheels San Diego County. Thank you to the many volunteers and staff who are committed to caring for San Diego's elderly and disabled. We are thankful for the opportunity to donate to such an important and effective organization.
"Donations are significant for us. We're a pretty small organization when you think about it," Barbara said. "When you think about how many folks are in need, how many people we have on a sliding scale, being able to have those people call on us for assistance and not have to worry is tremendous. It's an absolutely important gift. Without generous donors like the Caster family, we couldn't do what we do without them."
If you would like to learn more about the Meals on Wheels San Diego County program, or to make a donation, visit their website at https://www.meals-on-wheels.org/.