A-1 Self Storage knows that our customer service is one of the main things that sets us apart from other self storage companies. Our managers receive the best training in the industry, and truly care about our community. Below you can meet Darlene. who has been with A-1 Self Storage since 2006. 
You can meet Darlene in real life at A-1 Self Storage in San Diego's Hotel Circle.
Peter: Hi Darlene, how long have you been with A-1 Self Storage?
Darlene: November of 2006 is when I started.
Peter: How did you first hear about A-1 Self Storage?
Darlene: Well, I used to work for Fujifilm processing, but that industry really shut down as people started going digital, so no more film processing. So, for a year, my husband and I did some traveling. After some much needed traveling, I put in my resume and Fran was the one that was hiring at that time. She saw my resume and called me for an interview, and after researching the company I was really impressed. So, here I am now.
Peter: That's great, 11 years is a long time. Is there anything you feel you learned in self storage that you might not have developed in a different industry?
Darlene: Well, I have learned to be extra patient. Some tenants, of course, would say, "Could you stay 30 minutes late?" or some tenants get irate over certain things and you must learn to be patient with them, and deal with the situation calmly.
Peter: Sure, and a lot of the rules are in place for a reason. We are here to protect everybody's things, not to inconvenience people. Does educating them about that sometimes help?
Darlene: It does help. It very much helps. After explaining that our first concern is to protect your things and that's why we have certain rules, they understand that and calm down.
Peter: I am sure you see people from all walks of life in the self storage industry, do you have any stories or any memorable moments from the past decade?
Darlene: Sure, I have plenty. The one that stands out is I had a customer who drove all the way from San Francisco because he had just got a new job. Well, he called me and said he was on his way, but he was stuck in traffic and wouldn't be there until 6:30 p.m. So I waited for him there until 6:30 p.m., and he really appreciated it. 
My boss was nice enough to make sure I got paid for going the extra mile, even though it put me into overtime. To my surprise, the next day the tenant brought me lunch and that was very nice. I love food, so that one really sticks out. My tenants appreciate what I do, and I appreciate that they rent from us.
Peter:  It sounds like you guys are really good at taking the stress out of some of those stressful transitions. 
Darlene: That's the goal. Let's solve their needs and be a friend to them.
Peter: Have you always been at the Hotel Circle facility?
Darlene: When I first started, I was trained at the Midtown self storage facility, and then after six months they promoted me to manager. I managed the Morena Boulevard self storage facility. When Hotel Circle opened, they moved the manager to Downtown San Diego, and I became the manager.
Peter: So, Darlene what are some of your hobbies outside of work?
Darlene: I love to do origami, all types of different crafts. I really like to recycle stuff. My husband is retired, so when I get home the house is clean, dinner is cooked, and laundry is done. So, I get to relax and do my crafts.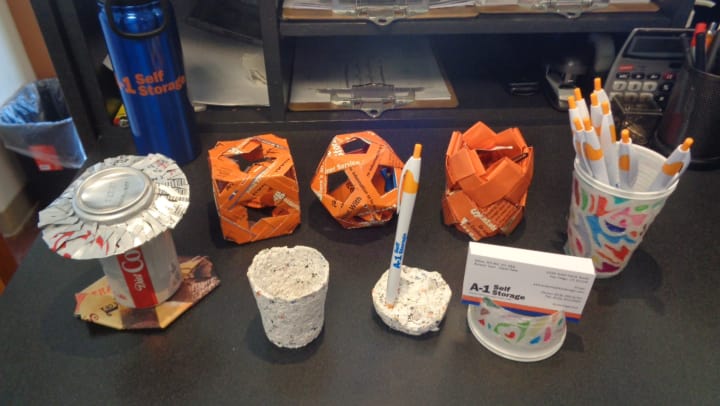 Peter: Cool, what are some of the types of things you recycle into crafts?
Darlene: When a tenant comes in we will give them a catalog, and they write things on it and typically leave them at the end. So, I recycle them and do a lot of origami art! I also get a lot of trash that gets thrown away as part of people's moves. So, I gathered a bunch of these plastic cups over time and turned it into art.
Peter: So, at home do you have a special area with crafting tools?
Darlene: Yes, of course I do!
Peter: Crafting is awesome, anything else you like to do in your spare time?
Darlene: Well, there's always shopping with my sister. I don't have kids, but I have 23 god children!
Peter: Oh, wow!
Darlene: Yeah, I get a lot of time for crafts, because I don't cook. I am allergic to pots and pans, at least that's what I told my husband.
Peter: That's funny. Does he have any specialties that he likes to cook?
Darlene: He likes to cook Filipino food, and he is from the Ukraine. I just had to give him the cookbook.
Peter: That's so cool. How long have you lived in the area?
Darlene: Since 1984. We moved from the Philippines straight to San Diego, because some of my aunts and uncles were already here.
Peter: Is there anything specific someone who is visiting should do when they are in your area? 
Darlene: Oh, they should visit JV's. It's an amazing Mexican restaurant. I have been going there a long time now. I love the food the people are great. I always tell my tenants, "If you like Mexican food, go to JV's!"
Peter: Is there anyone at A-1 Self Storage you would like to give a shout out to?
Darlene: Rana. I have known Rana for a year now, and I really enjoy working with her. But the first people to welcome me here were Dave Ratliff and Emma. Emma was the one who trained me, and I will never forget my first day with Emma. Shout out to Dave and Emma!