Here at A-1 Self Storage, we know our success is due to our wonderful team. The care they give our customers is unparalleled and we want to highlight their milestones along the way. Below is an interview with team member Melissa, who is celebrating her 10-year anniversary with A-1 Self Storage.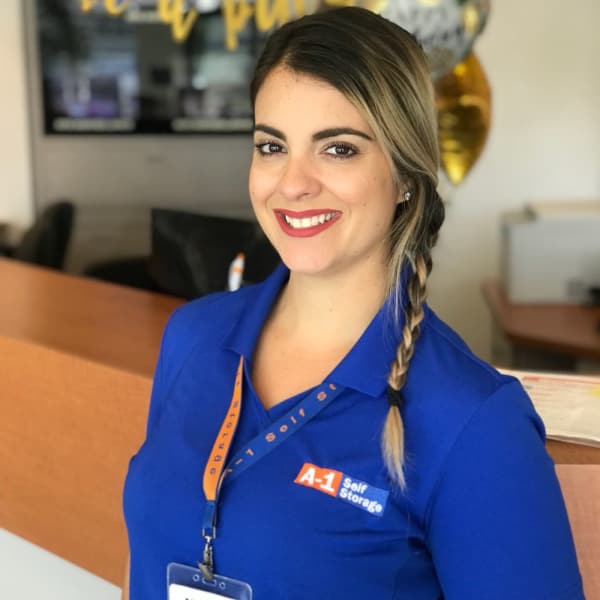 Melissa works at A-1 Self Storage in Fullerton, California.
Shannon: What year anniversary is this for you?
Melissa: This will be my 10th year.
Shannon: Wow, that's crazy!
Melissa: Yeah it is crazy, haha!
Shannon: How does it feel knowing you've stuck with this company for 10 years?
Melissa: Well you know, time goes by very fast. It got here before I knew it. It's good, because I've been here so long. and I've learned a lot. It's been a good company to work for.
Shannon: What is your position right now? Has it changed over the years?
Melissa: I'm the Store Manager, but I've only been the Store Manager for about a year now.
Shannon: That's another anniversary in and of itself! Congrats! What was your position before being store manager?
Melissa: I was a Sales Associate here. 
Shannon: How has that transition been from Associate to Manager?
Melissa: Since I've been here so long, I don't think it's been too big a change for me. I got the ropes along the way, but I had to make sure that I was able to take on the responsibility, and get things done. That would be the only change. Other than that though, I was really comfortable with the transition.
Shannon: Nice. What were you doing before you started 10 years ago here?
Melissa: I was working at a bank before, and I wasn't really vibing there well. So I started looking for something in sales, or just a better place for me. When I found this, it was definitely different. I went from working with a lot of people at once to only having to work with a few. It was definitely a change, but one that I found I liked.   
Shannon: What makes you want to keep working at A-1 Self Storage?
Melissa: It's something right now that just works for me. When you have people that you like that you work with, and the customers know you, and I love the city of Fullerton, so it's just been a good job for me right now. 
Shannon: You mentioned the customers, are there any customers in particular that have left a positive impression on you over the years?
Melissa: There's always a few that catch your eye, or that you might get excited to see, or they get excited when they see you. We have one, I've only ever met over the phone, named Margaret. She calls in and gets really excited to talk to us here, and we love talking to her because she is just the sweetest lady. 
Shannon: That's really great. Was there anything that surprised you about self storage? Either when you first started or as you went along?
Melissa: I guess the type of people that you meet was surprising. Then also, it was really surprising to learn how big this facility really was, since it doesn't look as big on the outside. But over time you definitely get used to it!
Shannon: I bet. Do you feel like there is anyone at A-1 Self Storage that has been a mentor to you?
Melissa: I learned a lot from my previous manager, Dania. Any time I needed to know something or had a question. she was always very helpful! 
Shannon: So do you have any advice for someone who may want to be promoted to the role of Storage Manager in the future?
Melissa: It's kind of the same thing every day. Just make sure you learn the ropes. If you have good customer service, then you'll do well. Having patience is also important, because you get a lot of different kinds of people here, so having patience is key. 
Shannon: You mentioned that working at A-1 Self Storage just works for you, could you tell me more about that?
Melissa: Yeah part of it is where it's located. The town is great, and the facility is close to home which is important, because I have two daughters that are five and eight. With them being in school, the working hours here make it easy for me. 
Shannon: That's great! While we're talking about more personal things, do you have any hobbies that you enjoy outside of work?
Melissa: On the side I do bake cakes, make little goodies and stuff.
Shannon: Yum! Do those ever make their way into the office?
Melissa: They do actually! I have some here today because we are celebrating a birthday here for one of our coworkers, haha.
Shannon: Talk about lucky coworkers! What kind of treats did you bake?
Melissa: They are peanut butter cream cheese cupcakes!