Here at A-1 Self Storage, we know our success is due to our wonderful team. The care they give our customers is unparalleled and we want to highlight their milestones along the way. Below is an interview with Alona, who is celebrating her 4-year anniversary with A-1 Self Storage.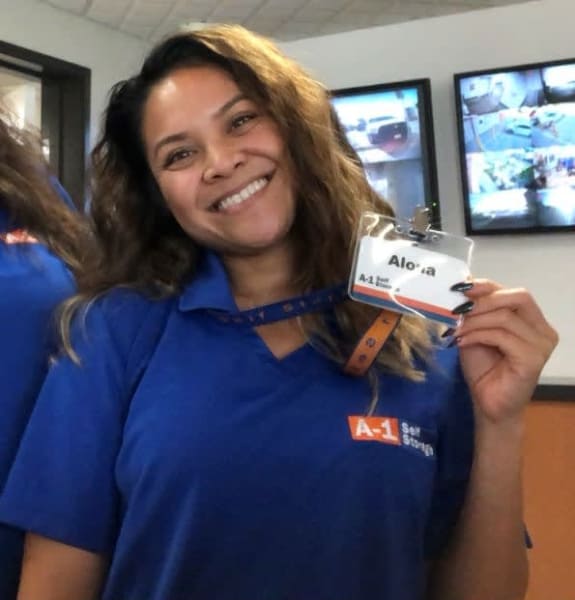 Alona is the Manager at A-1 Self Storage in Fashion Valley.
Jodie: Hey, Alona! What year anniversary are we celebrating today?
Alona: I think this is my 4th anniversary.
Jodie: That's wonderful! Four years is a pretty long time to stick to a company by today's standards. What were you doing before you worked at A-1 Self Storage?
Alona: Before here, I worked at a little smoothie shop and Journey's Footwear and I was going to school at San Jose State University. I graduated and moved here. 
Jodie: How are things different between retail and food service, and storage? 
Alona: They are really different. In this business it's all about service to people. Customer service is the big thing, being customer centered. 
Jodie: What is your current position with A-1 Self Storage?
Alona: I'm the Store Manager here at Fashion Valley, but before that I was in San Jose for three years and worked while I went to school there. 
Jodie: Over the years have you had any positive, stand-out customers or customer experiences you would like to share?
Alona: I've had so many, I can't think of just one customer, but it would definitely be someone in San Jose. That's where the majority of my time has been. 
Jodie: Perfect! Shifting gears a little bit, I would like to learn more about your life outside of work. What do you like to do when you have free time? 
Alona: I enjoy baking. Ever since I was little I've baked with my Mom and my sisters. I enjoy it so much, it will always be a part of my life! 
Jodie: What type of cake is your favorite? 
Alona: I actually don't like cake. I enjoy other desserts, I'm always trying them out when I go out to eat for lunch or dinner. I always get a dessert.
Jodie: Do you aspire to continue to do that and one day open a bakery? 
Alona: That would be amazing.
Jodie: Do you have a favorite bakery?
Alona: Extraordinary Desserts in San Diego for sure, their stuff is amazing. 
Jodie: Would you like to give anyone a shoutout? 
Alona: For sure I would. My Area Manger, Allen, has been wonderful. He helped me by being a mentor both in San Jose and here, with work and life.
Jodie: That's great, Alona! I'm so glad you are with the company and congrats on your anniversary. 
Alona: Thank you! That means so much.