Here at A-1 Self Storage, we know our success is due to our wonderful team. The care they give our customers is unparalleled and we want to highlight their milestones along the way. Below is an interview with Mark, who is celebrating his 7-year anniversary with A-1 Self Storage.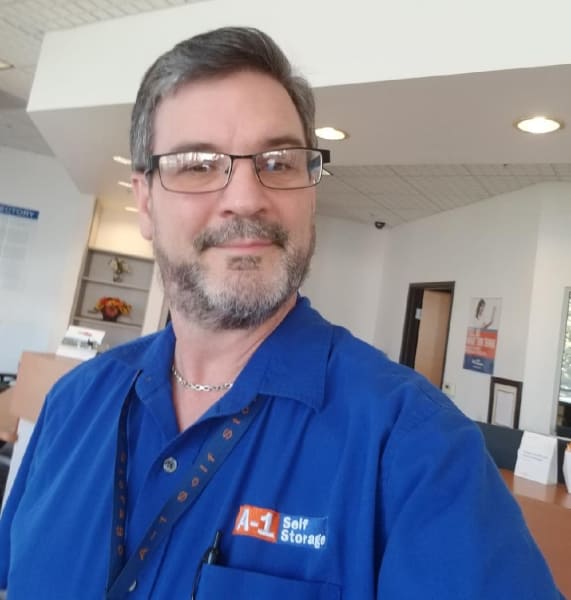 Mark works at A-1 Self Storage in Oakland, CA.
Shannon: Hey, Mark. Thanks for taking the time to talk with me today! We are celebrating seven years, correct? 
Mark: Yeah, seven years with this company.
Shannon: Were you with a different self storage company before A-1 Self Storage?
Mark: I've been with a couple, but seven years ago I was actually managing a Starbucks. The past storage
companies were back in Atlanta, Charleston, and Chicago. I was in self storage first, then I was a manager at Starbucks, and then back to self storage.
Shannon: Interesting! How did you initially get started in self storage?
Mark: I was working at the post office and was looking to change jobs, when a friend I had who worked in self storage said, "you should try this" so I just sorta fell into it. 
Shannon: That actually happens to a lot of folks that now work in the self storage industry. How do your experiences with other self storage companies compare to working at A-1 Self Storage?
Mark: The companies I worked for were much larger, so you didn't have the same kind of community you have when working for a smaller company, in terms of knowing everybody you are working for. I like it here because it's big enough to where you can get all the benefits of a large company, but small enough that I could call the president of the company and he would know me by first name, and know exactly who I was if I had a problem. It's just the right size.
Shannon: That's great to hear you like it! Has your job changed much since you started? 
Mark: I'm at a much more challenging store now. I was at a fairly small suburban store, and now I'm at a fairly large urban store. 
Shannon: What is it like going from a smaller shop to a larger one in the city? 
Mark: There's a lot more diversity, so I'm working with a lot of people of different cultures and backgrounds. To be honest with you, I find it more interesting. I work with two other people here, great women I work with, whereas at the other store I was by myself. So the dynamics of this job have changed totally by moving. 
Shannon: Do you feel like you have much support in terms of growing your skills as a manager? 
Mark: They pretty much stay out of your way and let you do what you're good at. If you're doing what you're supposed to be doing, they leave you alone. There are systems in place, but as long as you work within the boundaries you have a pretty good amount of autonomy.
Shannon: Interesting, so do you have any tips for someone interested in becoming a manager? 
Mark: It's all in the details. I mean really, in this job, one wrong thing and you can legally blow it, so you have to be very cognizant of the details. Also, customer service. When you've worked in customer service as long as I have, you see that good customer service transcends itself from whatever industry or employer you're with. If you possess those skills, then you will do very good in customer service situations.
Shannon: Great advice! Do you have any customers that have made an impact on you during your time at A-1 Self Storage?
Mark: One that comes to mind are the Contra Costa Blue Star Moms back in Concord at my old store. They had a donation box that we maintained in the office, and they put together care packages for deployed troops. We worked with them pretty closely, and it was just really neat to me. Especially since I was in the service, so it really rang true with me. I liked working with them a lot. The chapter that I was dealing with had a woman working for them that was just selfless. She was there for the whole six years I was there, and she was unbelievably dedicated.
Shannon: Sounds like that was a great thing to be a part of. What makes you want to continue working at A-1 Self Storage?
Mark: Job security and the people that you are working with. Just top-notch people.
Shannon: Any top-notch people, in particular, you would like to give a shout out to? 
Mark: I work with two really good women, Dena and Maribel. They're really good to work with. Plus my area manager, Allen. 
Shannon: You mentioned that you used to work at a different facility. How long have you been at the Oakland facility? 
Mark: I've been here for 10 months. 
Shannon: Nice, almost a year. Let's switch gears. What do you like to do outside of work? Do you have any hobbies?
Mark: Hobbies? I mean, other than traveling, which I really love to do, I don't know If I really have hobbies.
Shannon: Where have you been?
Mark: I've been to a good part of Europe. I have been to 47 States so far. I still haven't made it out to New England. I haven't done a whole lot in each state, some of them I have just driven through. I would really like to go to the Far East. I really would. 
Shannon: Do you have any pets at home? If so, what kind are they?
Mark: There is a dog and a cat at the house. The dog is half Korean Jindo and half Chow. The cat is just a semi-feral rescue. He's retired now and just chilling out around the house. The dog came through my roommate.
Shannon: That's so sweet! Do they get along?
Mark: They don't really interact much. The cat stays in the garage, the dog stays in the house.