A-1 Self Storage Commercial Spotlight: The Murder Mystery Company, American Immersion Theater
"Ooooo….interesting!" That's probably your response when you first receive an invitation to murder mystery dinner.
As you peel open the envelope, the anticipation grips you, who will the characters be? Will there be a victim or a villain? Weapon of choice? Oh, how the thoughts grip you!
Ok, maybe it's not that dramatic, but you do get excited when you think about the cool costumes right? This is your chance to play a real life CLUE game. It might be the closest you ever get to solving a real murder mystery, complete with nooses and heavy revolvers.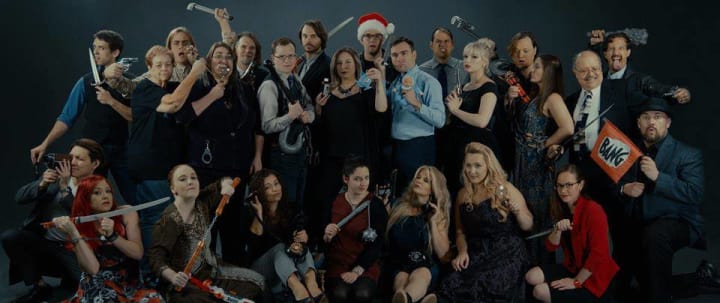 The Murder Mystery Company a division of American Immersion Theater (AIT) make sure when you come to a performance, or host one, you're involved in the plot.
This will for sure be the best date night you've had in a long time. It's a great way to insert a little drama into a date before the first course!
As you arrive at the location of this event, you may wonder, "Wow, where do they store all these getups and props?" We can confidently tell you, A-1 Self Storage in North Hollywood has been AIT's go-to self storage answer for many years. They rely on the team at A-1 to keep their "evidence" safe, secure, and easily accessible for whatever plot they come up with.
"Our company has so many props, costumes, sound equipment, and materials to use on every one of our events. A-1 is centrally located, close to the main freeways we need to travel quickly, has great parking, and is in a great neighborhood. It allows the actors and I the opportunity to have a "home base" before and after each event and a climate-controlled facility to keep our materials safe while we keep them organized," said Amber Lawson, AIT's Southern California Director and Public Relations Specialist.
As the second largest theater company in the US (Broadway is ranked #1) AIT and The Murder Mystery Company consider themselves America's most trusted and experienced dinner theater organization. They perform more than 10,000 shows each year, and being one of nearly 40 AIT troops in the US, this group of actors travels quite a bit from city to city, venue to venue. They found having an office wasn't practical.
That's when the script for A-1 Self Storage in North Hollywood to enter stage right and take care of the intrepid troop. We are proud to assist AIT in all their storage needs, as unique as they are! Imagine costumed actors stopping at the facility on Vineland to get a fake murder weapon...it's happened!
"You guys are great, we always look for a facility of yours in the cities we're based in," said Amber, "It's clean and has the longest hours around."
Amber's friendship with AIT CEO, Scott Cramton, goes back to their days in Detroit Michigan together. One day Amber was hanging out with Scott and friends and they suggested she take up acting. Amber was comfortable on stage performing, but always as a dancer. She finds it unbelievable that the company has grown so quickly and she runs the California operation. Duarte, Redwood City, Riverside, San Diego, and San Jose are all Southern California areas managed by Amber. She's up and down the coast constantly mentoring young actors.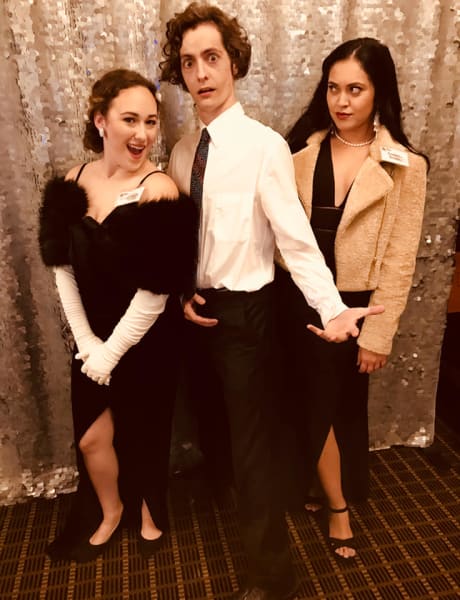 AIT started in Grand Rapids, MI in 2002 and Amber is one of the founding members. As a small group of performers, they brainstormed ideas for skits, wrote scripts, booked shows, and rehearsed in the living room of a small apartment. Shows were held just about anywhere they could be booked. Today AIT's 1,000 actors perform multiple shows per month in 20 states. Each year the company performs for 300,000 guests.
With The Murder Mystery Company shows, no longer do you have to decide between going to dinner before a show or after. You can have your cake and eat it too!
Amber feels similar in her partnership with A-1 Self Storage, "For our day-to-day uses, we organize materials and use it to conveniently store all of our show equipment in one space, however we have used it as a place to record quick training videos for our team, train new Show Captains on material usage, and be our home base. You will notice on social media the occasional group photos or even a fun and silly holiday video we made for our other 24 troupes across the country. Now, most of those jokes have come from years using this space, and although are very personal to our team (so they would be difficult to understand) I am sure you can only imagine how much that space has felt like a home to us to create those kinds of memories! We are very grateful for the supportive staff and our storage neighbors for enjoying and putting up with our crazy."
It is this no-hassle convenience that makes A-1 Self Storage a great choice for storing anything! Amber hasn't needed to use any other storage company, because her priority is taking care of AIT's actors and clients, and with A-1 Self Storage in North Hollywood, she can make sure that happens. Friendly and easy to work with, our team can help you can stay organized and know where your items are at all times. Together with safety and security, your peace of mind is our priority.
Once you have your storage needs covered with us, if you're ready to throw a creative party for friends, contact The Murder Mystery Company and AIT. Don't forget to tell them A-1 Self Storage sent you!