Meet Your Local A-1 Self Storage Facility in Chula Vista, California
If you are looking for the best self storage facility in Chula Vista, you've found it! Located at 810 Lazo Court, you can visit A-1 Self Storage and see just how well-maintained our facility is.
Enjoy beautiful views of the canyon every time you access your storage unit, since the facility is situated conveniently just a short drive up the Paseo Del Rey. This facility is one of two businesses on the way, so it's a private oasis, yet close enough for you to run a quick errand at Home Depot or Walmart.
An ideal place on the map isn't the only advantage to renting a unit at A-1 Self Storage in Chula Vista. We also take an immense amount of pride in the beautiful condition of our buildings.
"Everything is clean. It's a nice first impression when you drive up! Tenants say it looks brand new, which is always good to hear," said Edson, Store Manager of A-1 Self Storage in Chula Vista.
It may be hard to believe two structures built nearly 20 years ago can seem brand new, but a big part of that is the high standard of cleanliness kept by the team. Four times a week a janitor visits this almost 800-unit property to make sure the grounds, units, and bathrooms are sparkling. Edson also ensures all pushcarts are returned to the main floor each day.
Speaking of pushcarts, the amenities offered here at A-1 Self Storage will make your self storage experience a breeze. All you need to do is pull up and unpack. The hospital-sized elevators come in handy when tenants are moving in and can fit the contents of an entire three-bedroom house.
"We have three elevator lobbies and there is a loading area. We have pushcarts where you park and load. The pushcarts are extra-large and only five feet away, so it's an all-in-one! We have a big driveway, so you can park everywhere and anytime you rent with us we try to give you the very best location. Our site is rectangular in shape, so it is not a complicated maze," said Edson.
Maybe you have an item that is awkward or unusual shape. You sure wouldn't want to pay for a full square or rectangular-sized unit if it's unnecessary. Edson says while it may not be advertised, he has great options for those situations and they often come at a lower cost, "We have a variety of sizes from 5' x 5' and all sizes in between like 5' x 7' units. This way we can get a customer the exact size they need. We won't give them a unit that's two-to-three feet bigger than what they need. We can get them to the exact size."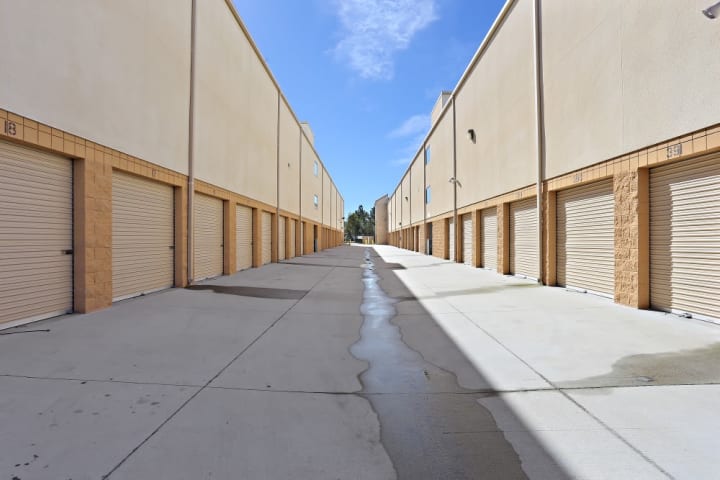 Drive-up units vary in size as well. What a relief! This facility features drive-up units from 10' x 10' up to 10' x 30'. These ground-floor units stay cool in the summer months, a fact that often pleases customers!
While we are happy to accommodate you in many ways, security has always been our #1 priority. You will be hard-pressed to find another self storage company with a team as experienced as ours and facilities as technologically advanced as ours. Edson's 6 years of experience in the self storage industry combined with motion detection video surveillance and a sensor-activated security system and you have a self storage facility that is ready for just about anything.
"We do have a gated facility. We have a one-way entry and one-way exit. There's also a sensor that will tell us when the latch on the unit door is pushed over. That signals us that the door is closed. Our system will say closed and that means the door itself has been closed. Each and every unit has an individual door alarm, so it will tell us what time the individual arrived at the facility and what time the gate opened. It will also tell us how long they were in their unit, what time the door was closed, and what time the exit gate was closed when they left," said Edson.
If you're part of a military family or own a small business in Chula Vista, you can feel confident you're getting the best deal when you store at our facility. Maybe you are a retiree who's downsizing or a young couple making room for a new baby. Either way, selecting a location close to retail shops and restaurants is ideal. Daphne's Greek Cafe and Chipotle are great options close by, or you can even order for pick-up on the way home!
Our retail area features a wide array of moving supplies including wardrobe boxes and solid brass cylinder locks, so you don't have to sweat the small stuff! The shop is open Monday-Friday from 9:00 a.m. to 5:00 p.m. and Saturdays from 9:00 a.m.until 5:00 p.m. We also have the best access hours in the area! The facility is accessible from 6:00 a.m. until 10:00 p.m. 7-days a week!