Meet Your Local A-1 Self Storage Facility in Kearny Mesa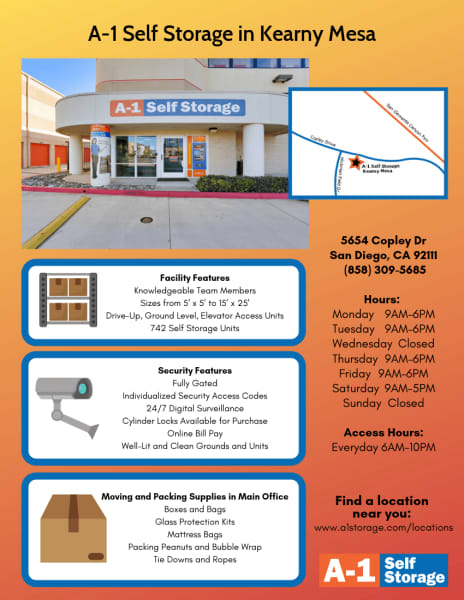 When relocating to the San Diego area, there's a good chance you'll find yourself in need of self storage. Anyone who has ever moved can relate! A-1 Self Storage in Kearny Mesa has your back. Located just off the 805 in Kearny Mesa, this facility has everything you're looking for and more! Built in 2000, you will find a clean, meticulously-kept facility perfect for housing your extra possessions.
With more than 800 units in a wide variety of shapes and sizes, it's pretty much guaranteed you'll find the perfect unit for any situation. Furniture, appliances, family heirlooms, classic cars, boxes, whatever you need to store in the short or long term, we have a unit that fits! If you need assistance packing items efficiently, Kayla, our Store Manager, is the one to ask! She's helped plenty of customers make sure they move in successfully and are happy with their storage choice. Kayla says it all starts with a well-built facility.
"The units all have steel doors and the inside is concrete and metal. They stay at a cooler temperature on hot days," Kayla said.
Often the items we choose to store are things we don't often use. For instance, if you are in the middle of a summer move and need a resting place for the Christmas tree and all your holiday decor, A-1 Self Storage in Kearny Mesa is the answer. Store today and in six months return feeling festive to pick up all the trappings!
If you are looking for a hassle-free way to use storage, you've come to the right place. You get to decide when visiting our facility fits into your schedule because we have the longest access hours in the area! Access to the facility runs from 6:00 a.m. to 10:00 p.m. and our team is available in the retail shop every weekday (except for Wednesdays) until 6:00 p.m.
Convenience is a point of pride for the team at A-1 Self Storage, but our main priority is facility security. While on the property, our restrooms are locked and only opened with the code customers received at check-in. Safety is always #1!
"There is 24-hour video surveillance. Every unit is individually alarmed. You get your unique access code for both entering and exiting, and we have a log of when every unit was accessed." Kayla said.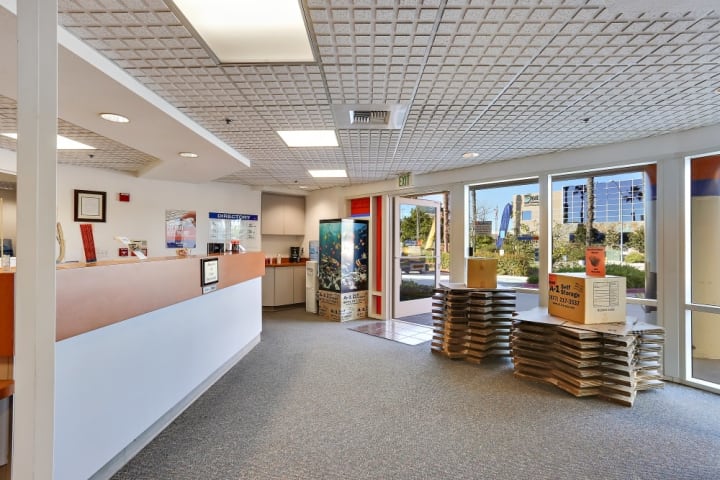 When you store your items with A-1 Self Storage, we want you to leave the property worry-free! From a well-lit, gated entry with keypad, to the solid, brass cylinder locks we sell in our retail shop, we are determined to give you confidence in where your valuables are stored.
You can find us at 5654 Copley Drive and remember to ask our friendly team about the ever-changing discounts and weekly specials! We also have storage options for students attending local universities.
If Kearny Mesa is where you're about to put down roots, let A-1 Self Storage serve you. If you happen to rent a unit on our upper floors, you'll be happy to know the aisles are cleaned daily! No need to worry about moving large or heavy items to the top floors. The hospital-sized elevators make even the most unwieldy object easy to move. Our team is friendly and will make sure you choose the right space for your needs. Come by and see Kayla today. She's expecting you!