Meet Your Local Self Storage Facility: A-1 Self Storage on Spring Street in La Mesa, CA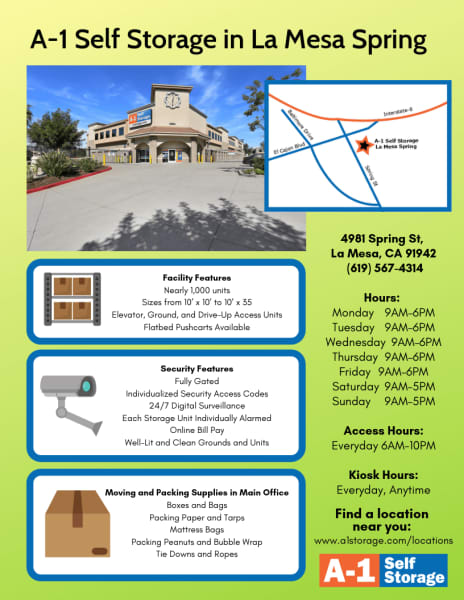 Do you have a ton of stuff and nowhere to store it? We have some news that may be music to your ears! A-1 Self Storage on Spring Street is committed to helping you secure your valuables in an individual unit that is both safe and clean, and we're located within walking distance from La Mesa Village! There's no need for you to pay for lots of space somewhere out of town when you only need enough for a few boxes and containers! If you have a space issue, we have a solution for you!
Music has been playing over the speakers of this facility since it's opening in February of 2002. One of two of our friendly storage experts, Fran laughs as she tells us people really enjoy that little fun fact, "Yes it keeps things mov'in as people are groov'in to the music."
This facility truly is the real deal. It features nearly 1,000 units, ranging in size from 10' x 10' to 10' x 35'. A-1 Self Storage La Mesa may be the facility you've been looking for! When you visit our two well-ventilated buildings, you'll see that access really is a breeze! Simply take advantage of the hospital-sized elevators and flatbed push carts that are readily available throughout the facility.
We also have storage units that feature convenient ground-floor access. There are even drive-up units that make moving items from truck to storage easy as pie.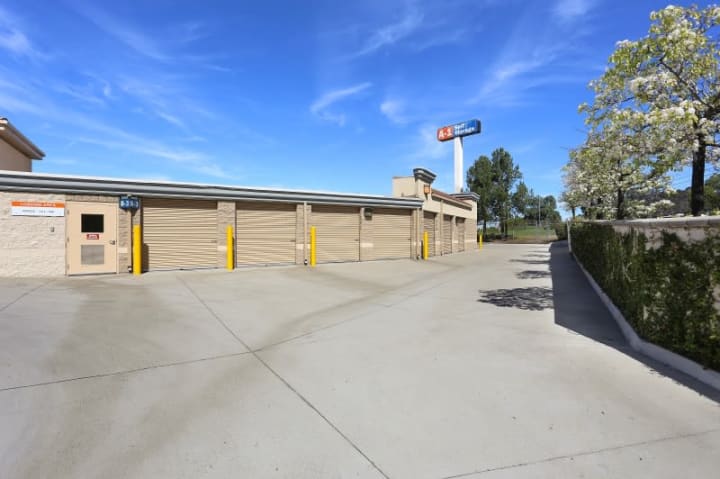 This facility has some of the best access hours in the area. This A-1 Self Storage facility offers extended access hours from 6:00 a.m. to 10:00 p.m. for customers convenience, and that includes major holidays. Gates protect your property, however, they can be opened with your individualized security access code. Need to rent a place ASAP? 24-hour kiosks will take your monthly payment with no fuss.
While access is important to you, we also value security as much as you do, so the grounds are monitored 24/7 with reliable digital surveillance cameras. You can count on this facility being well-lit at all times. To top it all off, each storage unit is individually alarmed. Between security features and genuine care for customers, Fran says that she and the rest of the team are able to run a safe and reliable facility that customers can count on, "Being a problem solver is the best part," said Fran.
Don't have a vehicle? No problem, trolley access will take you to the front doors. "It's a pretty community, we're right near La Mesa Village and the La Mesa Village businesses, so they're very community minded. There's a library, police station, fire department, and post office right across the street from us! This is a great community. They have a lot of community events. They have an Octoberfest. They have "Christmas in The Village" and a weekly farmers market, so there is a lot of things going on in the village."
While all A-1 Self Storage facilities are well kept, Fran said that she thinks the team at Spring Street takes extra care of their facility and customers take notice, "Absolutely! They appreciate how clean the facility is and how safe they feel. We get many compliments on how clean it is."
If you couldn't tell already, this facility's team does everything they can to ensure their customers and their valuables are looked after. Another way that the team here gives their tenants above and beyond customer service is by having a retail area full of moving supplies. The retail area is located inside the office and anyone can purchase moving supplies including boxes, packing paper, tape, bags, mattress bags, tarps, tie downs, and ropes here. So whether you're looking for easy access to your things, or just prepping for your move, A-1 Self Storage on Spring Street is your go-to facility!
Take I-8 West to Exit 13A at El Cajon Blvd and you're almost there! One note, Fran wants to remind you is construction going on for the new pedestrian expansion on Spring Street, so just know A-1 Self Storage in La Mesa is open for business.
Look for the flashing red light to know where to turn into the facility. Please be extra cautious and remember it's expected to be completed by March 2019.