Meet Your Local Storage Facility: A-1 Self Storage in Anaheim
At A-1 Self Storage we think it is important to recognize the outstanding amenities and qualities of our facilities. Our managers and associates at each facility work non-stop to ensure that they earn their customers business every day, so recognizing that effort only seems natural! We zeroed in on the wonderful A-1 Self Storage in Anaheim, California to learn more about all that the facility has to offer.
We spoke with friendly storage expert, Sarah, who has been with the facility for over a year and a half. The facility was built in 1996 by a previous company before A-1 Self Storage bought it. The facility has 829 units spread across multiple buildings; only one of which is considered to be "multi-level".
Most of the self storage units range from 5' x 5' to 10' x 40', though Sarah did note, "We have a few odd sizes that might be slightly smaller or slightly larger."
Since the majority of the storage units are on the ground level, there are many drive up units at A-1 Self Storage in Anaheim - where units are located on the ground floor with a door facing the exterior of the building. Many people love these drive-up storage units for their convenience factor.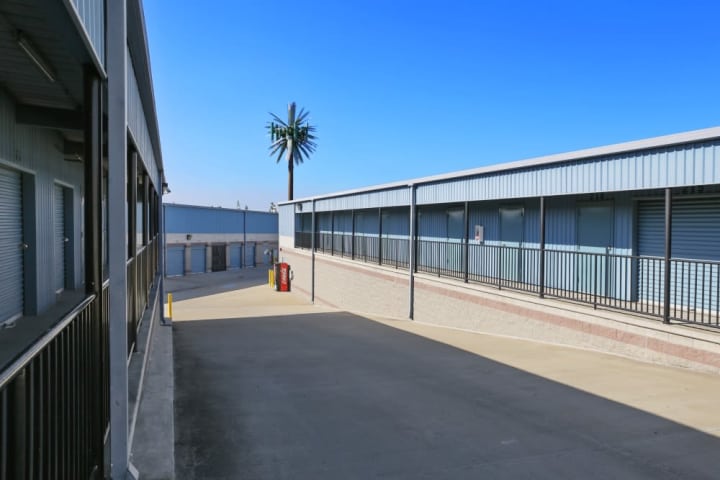 "People like that because, if they are going to be there frequently or have to move in heavy furniture, they don't have to walk up stairs or down a hallway to their door. They can just pull right up and open the door. It's like having your own garage here!" she said.
For customers renting their self storage units in our multi-level building, there is a freight lift for ease of access. Customers are then able to meet the lift on the correct floor to take their items to their unit without having to haul anything up and down stairs.
When it comes to convenience, we like to cover all of our bases. That is why we have outfitted our stores with fantastic security features to help our customers enjoy the convenience of never having to worry about their items.
"We have controlled access which means you have to have a code to get into the gate, and we don't provide that code to anyone but the tenant," Sarah said. "We also have the 24 hour surveillance that is throughout the property. Each unit also individually alarmed."
On top of this, our team actively walks the grounds to keep a watchful eye over the entire facility while keeping everything sparkling clean at the same time.
"That's definitely our number one priority. You don't want to give the impression that no one cares, so the inside and out of the units, the grounds, and all the buildings are always spotless! We try to stay really really on top of it."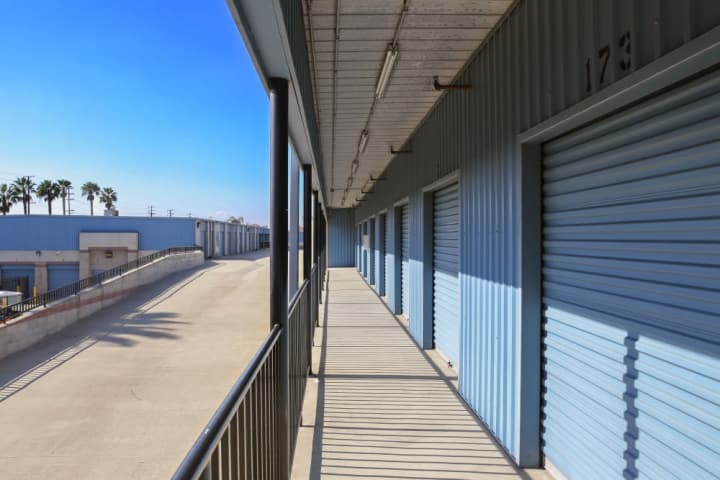 Since the facility is so well kept and secure, Sarah said that she thinks customers return the favor by showing respect for the facility and the renter community as well. Because of all the positivity being shared at the A-1 Self Storage facility on Anaheim, the team feels comfortable offering their customers enviable access hours.
"Our access hours are from 6:00 a.m. to 10:00 p.m., which for this area is actually unique. A lot of our competitors are seven to seven, or nine to seven. They tend to keep just the office hours. What we've found is that when they say that, it is because they've had issues with people when they weren't here," Sarah said. "With us, we try to run a tight ship and make sure that everyone is following the rules. So that has allowed us to keep our extended access hours, which definitely sets us apart from other companies."
There are also five self storage units at the facility that have 24-hour access. All of them are currently being rented at the moment, but check in with Sarah or any of our other storage experts to find out when the next available 24-hour unit may be available!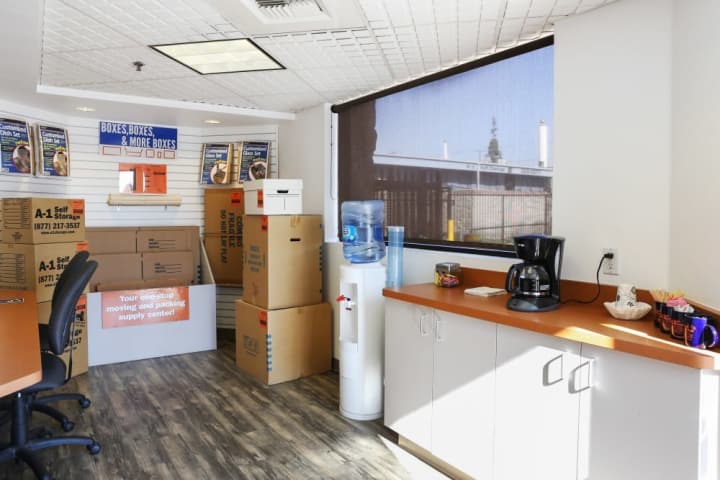 Since moving belongings around is an inevitable part of self storage, our facilities have moving supplies for purchase at all of our locations! Items such as mattress moving bags, stretch plastic wrap, boxes, and packing tape can all be found in the office. You don't even have to be a customer yet to take advantage of the retail area, or enjoy the bundled deals and sales we have available.
"It's all out there and available for everyone. So if someone just wants to run in and grab it, they can. It's not just for customers which is great, because sometimes you just need to ship something!" she said.
There are many things aside from ample security, great customer service, and fantastic features that sets A-1 Self Storage in Anaheim apart from other companies. So stop by the next time you need some moving supplies, to rent a storage unit, or even just to pick the brain of one of our friendly experts about self storage! They're always more than happy to give tours of the facility and answer any questions you may have about A-1 Self Storage.