Meet Your Local Storage Facility: A-1 Self Storage in La Habra
If you want to experience superior security and top-notch customer service, A-1 Self storage is the choice for you! Located in the northwestern corner of Orange County on East Lambert Road, this facility provides self storage services to the residents of this beautiful community and the team prides themselves on the quality customer service they give to customers. We spoke to the facility Store Manager, Brian, and he told us how A-1 Self Storage meets the locals and students from Biola University every day!
Storage in La Habra
Located just north of Fullerton, this facility has great qualities that make it the best choice for self storage in the area. We can be found just east of the Diamond Elite Sports Academy and west of South Harbor Blvd. If you need to run errands after visiting your storage unit, Walmart Supercenter is just south of our location off Imperial Highway. If grabbing a bite to eat is on the agenda, you can find anything from Starbucks to Mongolia BBQ in the surrounding neighborhood. West of Chino Hills State Park and the Black Gold Golf Club, you could hit a round of golf and then stop by A-1 Self Storage in La Habra on your way home.
"Between the two buildings, we have 800 units available and 24-hour surveillance of all those units," said Brian. Due to the facility featuring electronic gate access, everyone has a unique access code and is able to unlock the main gate as well as their individual unit. Hospital-sized elevators and pushcarts make moving in or out is a breeze!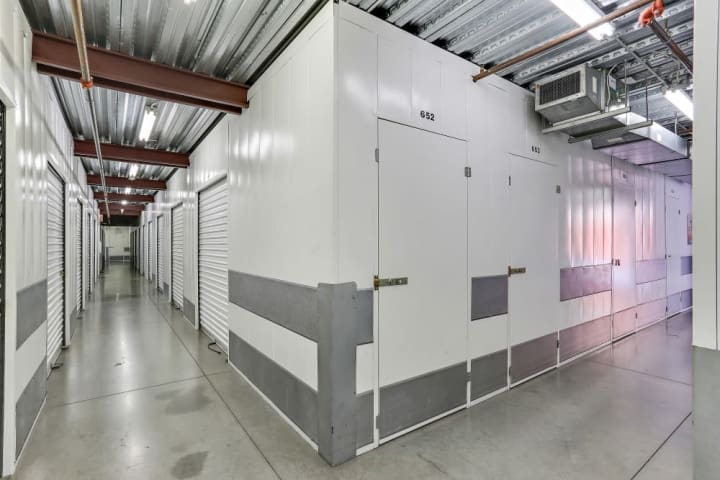 Serving Valley Families
This facility is the perfect spot for families to store everything from antiques to unused, and valuable furniture. We know you care about your items, and it's important to our team that you feel like those valuables are taken care of with the utmost concern. "We try to make the building look like new at all times. I just had a customer who asked how old the building was and she couldn't believe it was 20 years old," Brian said.
A-1 Self Storage in La Habra offers amenities you won't see at other storage facilities. The facility is accessible seven days a week from 6 a.m. - 10 p.m. These hours provide the flexibility needed to put new things in or take items out at your convenience. Sort your stuff at your leisure and on your timetable. Sometimes rushing through a storage unit and making quick decisions (on very personal items) can be overwhelming and we want your experience to be as smooth as possible.
Our team of self storage professionals makes sure you have the supplies you need to get the job done. Are you in need of boxes and tape to get everything ready to go into storage? We've got your back. Tuesdays through Fridays from 9 a.m. - 6 p.m. and Saturdays 9 a.m. - 5 p.m. we can assist you with purchases and any questions you might have. Get a 25% discount by purchasing 10 or more boxes! Our team knows moving can be stressful, so if there is any way we can make life easier, we're here to help!
Storage Options for Students
Students taking West Imperial Highway from Biola University can be on site within 15 minutes. We know college students have full schedules, and lots of studying to do, and our online services make renting a unit quick and easy. With all the sizes and styles to meet your needs, we can craft a unit to meet your budget, and store your life year-round if needed! Need a 5' x 5' or a 5' x 10', maybe a 10' x 10'? Online you can see what type of items fit in each of these units. You will also love the flexibility of our month-to-month payment plans and the freedom that having a storage unit gives you! Now you won't have to depend on friends and family to make space for your multitude of treasures. Simply relax knowing your items are safe and secure right where you left them! Inside you can count on clean quarters and state-of-the-art secure locks. Individually alarmed units and coded entry keypads make renting storage space a breeze and your once cluttered life can now be hassle-free.
Know That Security is #1
"We have the electronic gate access. Everyone has their own unique access code that unlocks the main gate as well as their individual unit. We also have 24-hour video surveillance. We have 16 different cameras and they all record to an outside location," said Brian.
Our team constantly works behind the scenes to keep the facility clean and safe. Walkthroughs of our facility are conducted every day to check to collect litter and to make sure we are aware of all visitors. We keep a record of everyone currently at the facility using unique access codes. Renters must enter their unique code before entering and exiting the facility. We know our facility is safe and secure, clean, and well-maintained. Come by A-1 Self Storage in La Habra today and talk to one of our knowledgeable storage experts to find out how we can start freeing up room in your life today!
This post was originally written in December 2018 and has been updated to maintain accuracy.