Meet Your Local Storage Facility: A-1 Self Storage in North Hollywood
We take pride in the fact that A-1 Self Storage on North Hollywood's Vanowen Street offers some of the best storage features and customer service in the area. You can bet we have the online reviews to prove it! For that reason, Yabone, professional Self Storage Manager, was excited to tell us all about this location has to offer.
If you are looking for ease of access, look no further. Yabone said you won't find better access hours in the area, which are 6:00 a.m. to 10:00 p.m. including holidays. There are 600 units in total and 32 of those units feature drive-up access. There are also eight non-covered parking spaces for customers interested in a cost-effective and secure way to store their vehicle.
When it comes to who is renting at the facility, Yabone was able to give us a quick rundown, "We have a pretty wide variety of customers. I would say 50% are residential customers, 25% are studios or businesses, and 25% need temporary storage."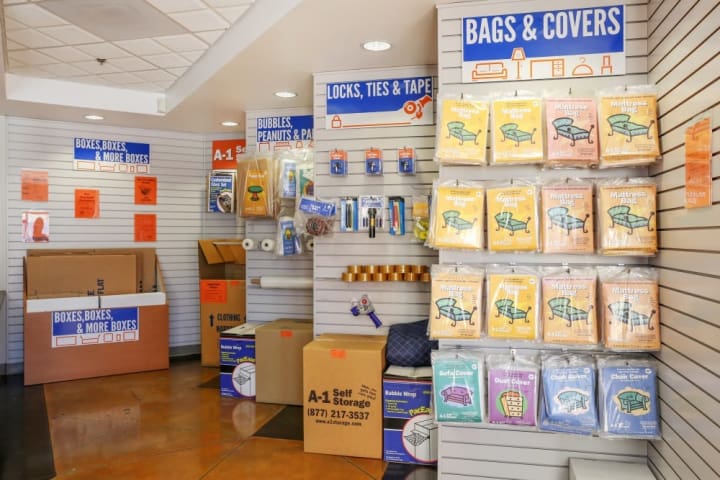 This location is also a draw for customers who need quick access to the Hollywood Burbank Airport, "Seriously though we are 0.7 miles away! You could walk to it if you needed to!"
There are three floors of units ranging in size from 5 ft x 5 ft to 10 ft x 30 ft. Pushcarts are available to help customers move their belongings, and customers can use one of the two elevators to access the different floors.
"They are big hospital sized elevators that folks can ride on with their items," Yabone said.
If you're wondering how this fairly large facility is able to keep everything safe and sound, for starters, Yabone told us that each unit is equipped with its own door alarm.
"We have individual door alarms, and they are all connected to our system. So we enter your code to deactivate your alarm when you need to access your unit. We also have 24-hour surveillance cameras throughout the facility, and an electronic gate," Yabone said.
How's that for security? We try our best to make our customers' experience as easy and worry-free as possible. With that in mind, A-1 Self Storage also has retail areas at every location that provide moving supplies.
We know that all of these features make for one incredible experience at A-1 Self Storage, however, it's the customer service that team members like Yabone provide that truly sets us apart from other storage companies.
"There was a lady who was pretty much moving her whole life to southern California from Arizona, and I remember she was just having a terrible day because she didn't really understand L.A. traffic, so she got lost," Yabone said.
"But she made it here down to the last minute, and I stood here, making sure she got in and got her things sorted. I remember she was bursting into tears because I helped her out. Ten years later she is still my customer. I still remember her. She comes in here and she talks about how she sees us as her sons, me and my associate, Valentine."
Life can get pretty crazy at times. Our self storage professionals are trained to put customers first, so they can provide the best customer service possible. Drop by our North Hollywood location on Vanowen Street, and talk to Yabone or Valentine about how A-1 Self Storage can make your life easier!
This post was originally written in July 2018 and has been updated to maintain accuracy.