Meet Your Local Storage Facility: A-1 Self Storage in Paramount
With its sand colored walls and terracotta roof, A-1 Self Storage in Paramount, California gives off a majestic and pristine Mediterranean vibe. So much so, that passers by may not realize that this in fact a state-of-the-art self storage facility!
Paramount's Manager, Patricia, has worked at this location for five years, and was more than happy to give us an overview of all the features and amenities this location has to offer. Built in 2000, this facility features 874 units spread across multiple, two-floor buildings, so you can bet there are elevators to make reaching even the most remote unit a breeze.
"Each building has two elevators, and they are hospital sized elevators," she said. "The elevators are very roomy, and they all have double doors for larger items and carts."
The addition of convenient access hours and drive-up units on the first floor make for a quick and easy experience at this facility, "For regular customers, access hours are 7 a.m. to 7 p.m., including holidays. For businesses, if they get approved, they can have 24 hour access," Patricia says.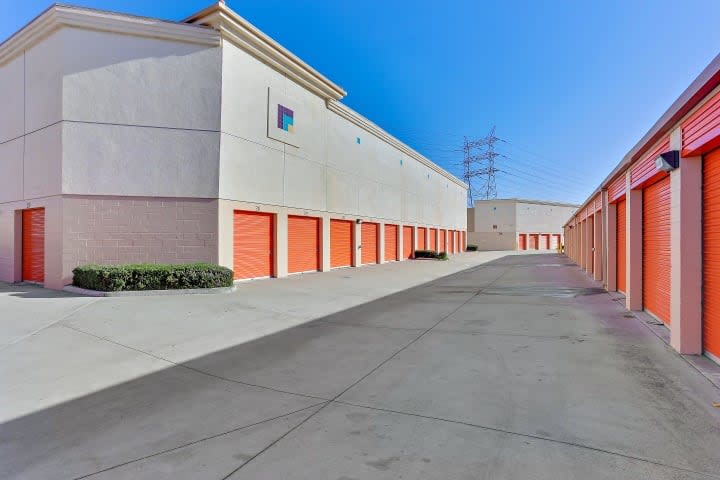 While the facility makes it easy for its guests to access their unit, they make it very difficult for unwanted visitors. Cameras record 24-hours and security alarms surround the facility.
"Not only that but we have a daily in and out alarm system," Patricia said. "So we can check that and see what people came and when, and who is currently on the premises. "Of course, we do our walkthroughs as well to make sure everything is both clean and secure."
Not only are the units at this facility protected from unwanted human visitors, but also from visitors of a smaller nature. Patricia says that keeping their facility spotless is of top priority, "We have no insects of any kind. People love how clean the facility is, and that typically outweighs price for most people."
With all of these measures in place, the customers at the Paramount facility have little to worry about. This is also reinforced by the strong community that surrounds the facility.
"The area is pretty safe and secure around us. I have been working here for a long time and we haven't had any incidents. The people are friendly and respectful around here," Patricia said.
This facility really has it all! From beautiful grounds that are kept secure and clean, to convenient access hours, what more could you want? Well, if you also need moving supplies, Patricia says they have a wide variety to choose from!
"We have plenty of customers that need boxes or tape. We try to get boxes that will be convenient for customers, so we pay really close attention to what our people need," Patricia said. "We have really good prices, and have pretty much everything they need. We have packages were people can mix and match boxes and get up to 25% off."
It should be no surprise that along with all of these fantastic features our clients are bound to get great customer service. Patricia says the facility receives great reviews online and in person.
"Customer service with us is very important, honestly," she said. "Everybody that is a customer of ours has shopped around, but they come back to us because we are nice and friendly. We don't push units on people, and we have a very clean presentation of our units."
It is apparent that Patricia runs a tight ship at A-1 Self Storage in Paramount, CA and we can't wait for everyone to experience all that this fantastic facility has to offer. If you are looking to store your belongings in the Mid-Cities area with a team that will go above and beyond to ensure your satisfaction, look no further!