Meet Your Local Storage Facility: A-1 Self Storage on Center Drive in La Mesa
A-1 Self Storage on Center Drive in La Mesa, California is a premium storage facility that provides self storage unit options for all budgets and needs. Grace, the facility manager, started out at the A-1 Self Storage facility in El Cajon, and after seven years she moved to working at La Mesa Center where she has been for almost a year now.
The facility was built in 1989 with 1,007 self storage units ranging in sizes from 2.5' x 2.5' to 10' x 30'. Grace described all of the different ways the units could be accessed.
"We have easy drive up units, which makes it convenient for people to come and go as they please. We also have easy elevator access for upstairs and it is actually very cost efficient especially in the long term you know if you're just storing it and leaving," she explained.
With a full elevator and a separate freight lift, this facility is made to give you the most convenient option possible for your needs. Grace also mentioned that they have a restroom for customers.
Whether you are a business owner or a resident of the "Jewel of the Hills," being able to access your unit when it is convenient for you is crucial. For that reason, A-1 Self Storage on Center Drive offers fantastic access and office hours.
"We have great gate hours that are from 6:00 a.m. to 10:00 p.m. so you have easy access even on major holidays so you can come and go as you please," Grace said. "We have a staff that's here every day." During the week, staff are at the facility from 9:00 a.m. to 6:00 p.m., and Saturdays and Sundays from 9:00 a.m. to 5:00 p.m.
While access may be convenient for the customers at the facility, Grace was quick to point out that it is very inconvenient for anyone that should not have access as well.
"We have great security because we have staff members that her here every day. We walk the grounds constantly. We have surveillance cameras here at the office, so we can see entries and exits throughout the buildings and in-between the buildings, " she said. "We also have individual door alarms so we can track your access as you come and as you go."
The A-1 Self Storage on Center Drive even has an electronic gate which only opens when a unique access code has been entered. This helps the staff further monitor who comes in and out of the facility. On top of the individual door alarms, special locks have been added to the self storage units as well.
"We actually have cylinder locks that are unique to our facility. It's more of a barrel lock. It's not something that's small. It's a very secure unit lock. What we do is we have weekly checks where we check every single door to make sure everything is up to code. If not, we will be contacting you," said Grace with gravity.
Having visibly secure grounds, and safety measures in place, helps the customers of A-1 Self Storage on Center Drive feel confident in storing their belongings there. Another reason why customers are confident is because of how clean the facility is kept. Since Grace and the staff are constantly sweeping the grounds for trash and debris, customers know that the staff are doing everything they can to provide the best self storage experience possible.
"I take pride in where I'm at, and I enjoy my job. I'll probably be going out there this afternoon to clean up!" Grace said beaming.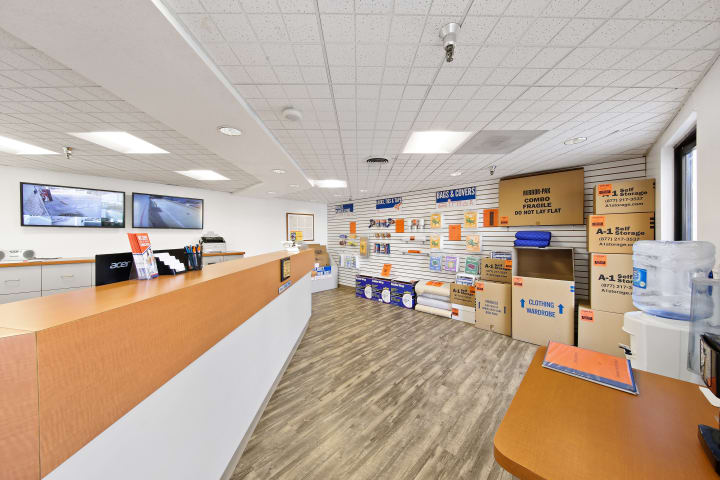 The facility exudes a feeling of care and attention to detail. Not only is storing made easy at this facility, but so is moving. The retail section in the office is stocked with moving supplies for purchase including boxes, mattress bags, shrink wrap, dish moving kits, and more.
"We have a nice little convenience store, because sometimes you are coming and going and you may have supplies that you forgot," she said. "If you are in a time pinch, we try to make it easy as possible to get you in and get you out. We value people's time."
The level of customer service you will experience from Grace and the staff at A-1 Self Storage on Center Drive is reflective of the well kept and secure grounds of the facility. But don't take our word for it. If you are in need of self storage in the La Mesa area, stop in and let our self storage professionals give you a tour of this facility!