Meet Your Local Storage Facility: A-1 Self Storage on Santa Ana Ave in San Jose, California
Downtown San Jose isn't just Google's newest venture, it's also home to a thriving arts community and bustling entertainment district! Located just Northeast of Burbank, this Calitown has a lot to offer newcomers. From exciting nightlife to Broadway shows and museums, San Jose is where you can find the action!
New to the area?
Maybe you've found yourself with a little less space than you anticipated. If so, come check out A-1 Self Storage on Santa Ana Ave in San Jose. This facility is easy to access, "We are at the corner of Santa Ana Avenue and North 10th Street", says James, Self Storage Manager, "We are very centrally located between the 880 and 101 freeways, close to the airport and Japan town."
Over a million people call San Jose home! James tells us this is a booming city, "The neighborhood and surrounding area is in redevelopment. It is a mix of light industrial and residential areas." Just a few miles from the popular San Jose University, many students find themselves in need of supplemental storage space. If you're looking for a safe place for your belongings short-term while you make that next move or long-term as you backpack across Europe, no worries! We've got you.
With our digital surveillance system and individually-alarmed units, you can have confidence your items will be protected day and night. Our Unit Size Guide will help you determine how much space you need, but feel free to ask us about our unique storage options as well. Dreading renting a moving truck and paying for each mile? If you live within 10 miles of our store and rent a 10' x 10', we'll get the truck for you!
But that's not all.
You can even store a vehicle here. Just pull right on up into one of our rentable parking spaces.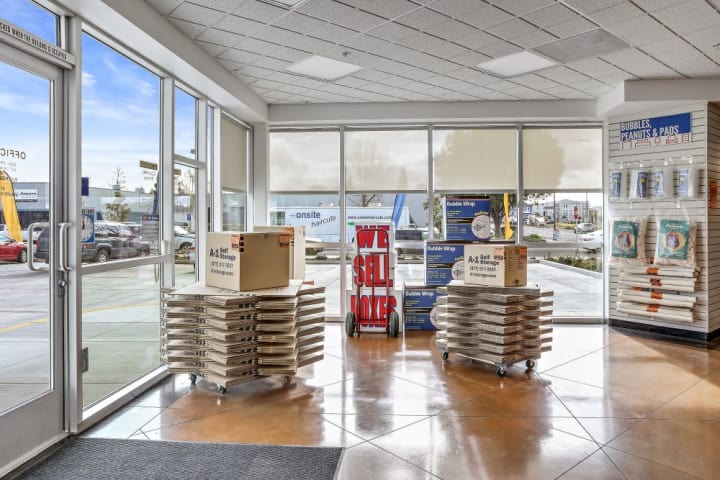 A convenient choice for hard-working students and local professionals, this self-storage facility is ready to meet your needs. We make sure you can get your belongings when you need them. The team at A-1 Self Storage ensures customers can access their units 7-days a week from 6 a.m. to 10 p.m. Our office is open from 9 a.m. to 6 p.m. Monday through Friday, and 9 a.m. to 5 p.m. Saturday and Sunday. At A-1 Self Storage on Santa Ana Avenue, the team is dedicated to providing you with the best self storage experience possible. Are you in need of self storage ASAP? Our month-to-month contracts are some of the most flexible in the industry. Visit the store in-person or go online now to see how James and his team can help you today!