Meet Your Local Storage Facility: A-1 Self Storage on South Bascom Avenue in San Jose, California
San Jose is a fantastic city for residents and businesses to call home, but sometimes finding a space for all your belongings in such a desirable city can become difficult. However, if you store your items at A-1 Self Storage on South Bascom Avenue, it's not difficult at all!
Built in 2001, this truly dazzling facility has 918 units divided between two buildings. Self Storage Manager Louis gave us all the details about the awesome features and amenities at this facility.
"Our smallest unit is 5' x 5' and our largest is 10' x 35'. There are four levels in one building and two levels in the other building," Louis said. "The building with four levels has three cargo elevators that can transport people with their belongings. You can probably fit three couches in one of those elevators! The other building has one lift, but no riders are allowed on it. The customer has to meet their items at the top."
For those in search of unparalleled self storage convenience, customers may want to consider one of the facilities numerous drive-up units that range in size from 10' x 15' to 10' x 35'.
"It's more for business people or people moving from a three to five bedroom home," Louis said.
Surrounding the facility are a number of upscale neighborhoods, apartments, and some businesses that help make the area feel relaxed and safe. Inside the facility is no different, and the customers really look out for one another to help increase the all-around security of the facility. Of course, the facility is also equipped with plenty of security features as well.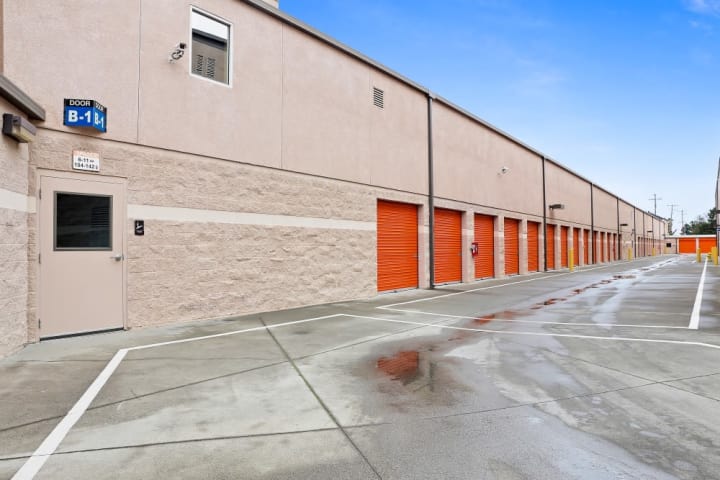 "Every storage unit has an alarm on the door, so when a customer rents a storage unit we give them a unique code. They must enter that code into the keypad that opens the gate and disarms the alarm to their unit," Louis said. "If somebody breaks into the unit, the alarm will go off and we will investigate it. We have cameras, so if at any time something happens we have video footage of the incident."
On top of all of this, Louis and his self storage team regularly perform security checks 6 to 8 times a day. During this time, they make sure all the unit doors are shut, and that they don't come across any unfamiliar faces. It's also a great time for the team to pick up any stray trash.
"We want to make sure the facility looks its best, so we go out there and just walk around and around," Louis said. "The customers here are very nice. We don't have problems. Overall, this is one of the nicest facilities in the Bay Area."
Since keeping the facility secure and convenient is a top priority, it's no wonder that their access hours and office hours are some of the most flexible in the area! Customers can access their units from 6 a.m. to 10 p.m. every day of the year including holidays. The office is open 9 a.m. to 6 p.m. Monday through Friday, and 9 a.m. to 5 p.m. Saturday and Sunday.
While you may think this facility couldn't be any more convenient, there's more! Pushcarts are available for use by customers without having to turn in an ID, and there is an onsite retail area where anyone can purchase moving and packing supplies. From boxes and mattress bags to packing tape and peanuts, you can rely on us to have what you need!
One thing that really sets this facility apart from others is the fact that this facility has climate controlled units.
"We have air conditioning. There are only two storage facilities in San Jose who have that. The other one is down the street from us." Louis said. "Antiques, paintings, wine, that sort of thing. Anything that people want to spend a little more money to keep safe rent climate controlled units. It's really nice to have in the summertime. It can get pretty hot."
Giving customers a self storage experience that is above and beyond what is expected is something on which we pride ourselves. While having desirable features like climate control and drive-up access help us stand out, our level of customer service is what really makes the difference. Louis loves building rapport with his customers and said that he's always thrilled when customers return after taking a self storage hiatus. He also enjoys helping those new to the self storage process learn more and get fit for a storage unit that is just the right size. Think you might need self storage in your life? Then visit the store or go online to start renting self storage at A-1 Self Storage today!