Meet Your Local Storage Facility: A-1 Self Storage on Vineland in North Hollywood, California
If your family has ever been to Universal Studios Hollywood in California, you might think you're still there when you see the A-1 Self Storage facility on Vineland in the NoHo Arts District. Colorful toys and a red umbrella top this facility like a beckoning theme park theater. While the next show is not in 20 minutes, you're welcome to stop in and check us out!
Hollywood is known as a movie-making paradise and its attractions draw millions of visitors each year. For residents in this community, that's something they've come to expect, but running out of space for storing needed items? That's not something anyone plans for.
Finding reliable space for all of your belongings in a heavily populated area like Hollywood can be a struggle. If you are in charge of production equipment for a company, well, that can be a real headache. If you need a storage unit for your things, look no further than A-1 Self Storage on Vineland! Unique and secure, this state of the art facility offers more than 1,000 self storage units in many sizes and shapes. If you have a need for a 4" x 5" space? We have it. We also offer units all the way up to 10" x 35". If you're trying to measure furniture to fit a unit, we can help you with items just short of 20-35 square feet long. Regardless of your need, A-1 Self Storage is determined to help you find a place for all your items in Hollywood, California.
Conveniently located off the 101 and across from Big Lots on Vineland, this neighborhood has many stores where you can get your shopping done before or after dropping off your monthly payment. Come by and meet Russell, the Store Manager at this location. He recently told us why he enjoys being at Vineland.
"The most enjoyable part of my job is being able to help people out, you know, out of an unexpected situation. People will say, 'We had to move suddenly.' We make it as easy as possible to make at least something in their life easier," Russell said.
Recently we spoke with a customer of A-1 Self Storage on Vineland and she told us her company wouldn't exist if it weren't for the amenities offered at this facility, "The team here at A-1 in North Hollywood are awesome. Anytime we need anything they are always there for us," said Amber Lawson of The Murder Mystery Theater Company.
For customers like Amber, having a full calendar is key to the success of her business! A-1 Self Storage counts convenience as a high priority and makes sure customers can easily access the belongings they need. We have some of the best access hours in the area. Customers can access their units from 6 a.m. to 10 p.m. every day of the year including holidays. The office is open 9 a.m. to 6 p.m. Monday through Friday, and 9 a.m. to 5 p.m. Saturday and Sunday. As Amber points out, those hours have proven to be very handy for her staff of actors. This facility has two buildings, each with four floors and parking spaces are available to rent for anyone needing to store a vehicle. According to Russell, the team at A-1 Self Storage will make storing with us as stress-free as possible.
In addition to all the great things Russell and his team can offer you, they also are diligent to make sure you and your belongings are safe. You will notice cameras in several locations monitoring the grounds 24-hours a day. The team at A-1 wants you as a customer to be confident in our state-of-the-art security and alarm system.
Convenience, customer service, security, and cleanliness are the top priorities at A-1 Self Storage on Vineland. Russell and his team are devoted to providing you with the most attentive service possible. We know sometimes things get complicated while moving important items, so we're here for you. If you need flexibility in your contract, you will find us to be at your service with month-to-month service.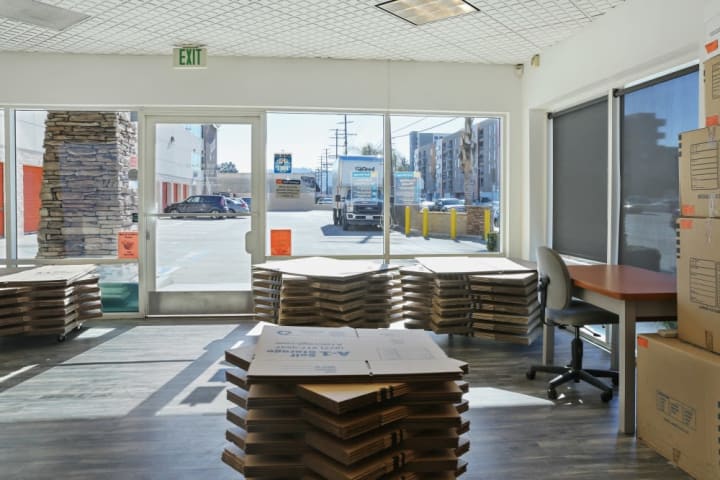 Whether you are moving into a new home, expanding your business, storing household goods for a trip overseas, or even just making space in your garage, A-1 Self Storage is here to help you along the way. Visit the store in person or go online to see how Russell and his team can help you today!